HOTELINFO
The Alona Royal Palm Resort & Restaurant is located on the Philippine island Panglao, the famous island for diving and relaxing.
Alona Royal Palm auf Google Maps
Our resort has a central position. It lies within walking distance to Alona Beach.












• 6 duplex villas
• Deluxe rooms, Superior rooms and family villas
• Pool with Jacuzzi
• Daily room service
• Security Guard
• Wellness on request, for a fee
• Local sport amenities on request, for a fee
• 3-4 minuts walking distance to citycenter (300 Meter)
• 10 minute walk to the beach (750 m)
• ffree high speed WiFi

DUPLEX VILLAS
The Deluxe and Superior Rooms are in our Duplex Villas. Through a connecting we are able to connect two rooms for your family.
The Family Villas are always combined by a Deluxe and a Superior Room.
The Deluxe Rooms have two very comfortable Queen size beds (2 people max.). The Superior Rooms have a King size bed. We are able to put an extra bed in the Superior Rooms (max. 2 people and one child OR 3 people).
The rooms are tastefully and comfortable furnished.
Every room (42 m2) has a generously designed living and sleeping area with a modern and quiet air condition, a flatscreen TV and a minibar. The private terrace overviews the pool.

AMENETIES
• 1 King Size bed or 2 queen size beds • two Flatscreen TVs • two Minibar • two Safes • Modern and silent split air-conditioning • two hairdryer • two Bathrooms are fully tiled and have a shower cabin, hot and cold freshwater supply • two privat terraces • Free WiFi
Deluxe Zimmer or Superior Zimmer
Write us and we will gladly create an individual offer for you
| | | |
| --- | --- | --- |
| 0 - 2 Jahre | Kann ein vorhandenes Bett nutzenKann auf Anfrage ein Babybett nutzen | KOSTENFREI300 Peso pro Kind, pro Nacht |
| 3 - 11 Jahre | Kann auf Anfrage ein Zustellbett nutzen | 1.000 Peso pro Kind, pro Nacht |
| über 12 Jahre | Kann auf Anfrage ein Zustellbett nutzen | 1.500 Peso pro Person, pro Nacht |
Die maximale Anzahl an Zustellbetten, Babybetten und Kindern, die mit in den vorhandenen Betten schlafen dürfen, hängt von der Zimmerwahl ab. Bitte prüfen Sie Ihr gewähltes Zimmer auf maximale Kapazität.

Grundsätzlich ist nur im Superior Zimmer eine einzelne Aufbettung möglich
Check in: from 2.30 pm | Check out: until 11.30 am
*per season and availability prices may vary minimum stay: three nights
RESTAURANT "BLACK STONE"
In unserem Restaurant erwarten wir sie täglich von 7:00 bis 22:00 Uhr.
Wir servieren unseren Gästen ein reichhaltiges leckeres à la carte Frühstücksangebot. Sie können zwischen Filipino, Chinesischen, Kontinentalen , Amerikanischen und speziellem deutschen Frühstück wählen.
Lassen sie sich während des Tages am Pool im Garten oder auf ihrer Terrasse mit ausgewählten Cocktails und Longdrinks verwöhnen.
In unserem Open Air Restaurant erwartet sie eine Vielfalt von asiatischer, europäischer und internationaler Küche. Lassen sie sich von unseren Köchen kulinarisch verführen und entdecken sie die regionalen Einflüsse in unsere Speisen.
Als spezielles Erlebnis bieten wir ihnen unvergessliche Momente beim BBQ vom heißen Stein an. Entdecken sie die Vielfalt und kreieren sie BBQ selbst und tauchen sie ein, in die Kunst des Kochens.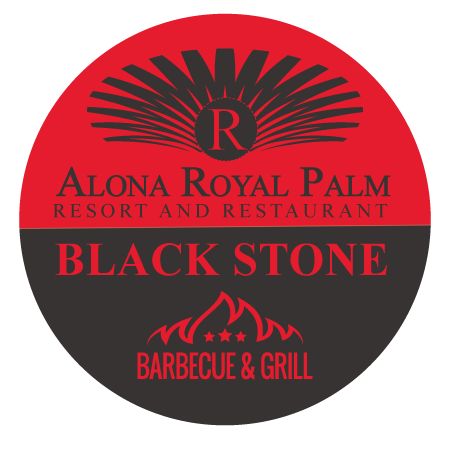 Now we want to give you some information about tourist attractions which are absolutely breathtaking. Exotic islands, incredible under-water world and wonderful beaches. On the Philippines, time passes slowly, so you can shake off the stressful days and dive into the water. The Philippines consist of more than 7000 islands, in the east there is the Pacific Ocean and in the west there is the Chinese Sea. Volcanoes, rich terraces, beautiful beaches and a great under-water world fascinate visitors from all over the world. The diving spots surrounding Panglao island are probably the best ones in the world. 169 languages are spoken on the 7107 islands. 81% of the inhabitans are Catholics and the official language is English.
BOHOL
Bohol Island, which lies next to Boracay and Cebu, is one of the most popular islands on the Philippines. It belongs to the archipelago of the Visayas. Bohol Island is quite large. It has a size of 4000 square kilometers.Rivers can be found in the green heart of the island. Caves, waterfalls, mountians, exotic wildlife, white beaches and wonderful coral reefs are very attractive for tourists. Near Bohol, you can find smaller islands, for example Panglao Islands, Pamilacan Island, Cabilao Island, Jao Mahanay and Lapinin. These islands are famous because spectacular diving spots can be found there.
PANGLAO ISLAND
Panglao Island lies southwest of Bohol island. Two bridges link these islands. Panglao is one of the top destinations. Beside excellent diving spots, you can go snorkeling and swimming. In addition to this you can admire the wonderful coral reefs and the white beaches.
ALONA BEACH
Alona Beach is probably one of the most famous and one of the most beautiful beaches on Panglao Island. The Beach is approximately 1.500 meters long and lined with palm trees. You can find diving schools, beach bars, restaurants and a large number of little stores there. The region is not spoilt by tourism althrough the number of tourists rises from year to year. Beautiful bays and romantic beaches, which are not touched by mass tourism, can be found very quickly. You can explore the beautiful nature of the island, e.g. discover the hidden paths.
SAG BAYAN PARK
From Sagbayan Peak, you have a spectacular view on the Chocolate Hills and on the sea. You can look through the telescopes and enjoy the wonderful view. Nearby you can find a market where food and local products are sold.
WETTER
The weather is tropical. The whole year it is warm and moist. The best time for travelling ist between October an May.
CHOCOLATE HILLS
One upon a time, Argo – a young and strong giant – fell in love with Aloya. When Aloya had a fatal accident, the giant was heartbroken. He cried. Thousands of tears fell on the ground because the giant was extremely sad. With his tears he created the Chocolate Hills. There are many legends concerning the famous Chocolate Hills which can be found on Bohol Island. Scientists have found out that the hills have a natural origin. Thousands of years ago the whole region was under water and the hills were covered with corals and coralline algae. All in all there are 1268 hills. They are between thirty and fifty meters high and cover an area of fifty square kilometers. In the summer the grass, which can be found on the hills, turns brown. When it is dry, you get the impression that the hills are covered with chocolate. That is the reason why they are called "Chocolate Hills". Insgesamt 1.268 Hügel, in einer Höhe von 30-50 Meter erstrecken sich auf einer Fläche von 50 km2 im Innern der Insel. In den Sommermonaten, verfärbt sich das Gras, mit denen die Hügel bewachsen sind, durch die Trockenheit braun. Daher sind die Hügel, die sich dann wie Schokoladenküsse aneinander reihen, unter dem Namen Chocolate Hills bekannt geworden.
TARSIER
Die putzigsten Bewohner Bohols sind die Tarsiere. Die kleinen Tiere mit den großen Kulleraugen gehören zu den kleinsten Koboldmakis der Welt. Auf Bohol befindet sich, in der Nähe von Corella, das Philippine Tarsier Foundation Schutzgebiet. In einem geschützten Wald werden in kleinsten Gruppen Führungen angeboten, die es ermöglichen, die Tarsiere in ihrer natürlichen Umgebung zu beobachten.
LOBOC RIVER
A boat tor on the Loboc River is fascinating. You can enjoy a boat tour which takes you through the jungle. There are palm trees on the banks of the river and there is a small waterfall. The boat tour starts in Loay or in Loboc.
SAG BAYAN PARK
From Sagbayan Peak, you have a spectacular view on the Chocolate Hills and on the sea. You can look through the telescopes and enjoy the wonderful view. Nearby you can find a market where food and local products are sold.
PAMILACAN ISLAND
Pamilacan Island is a diving spot and a place where you can watch dolphins and whales.There are experienced guides who show you how to dive.Of course, they also go whale watching -with you. Near Panglao Island and Bohol Island, vou can see more and more dolphins and whales.
BALCASAG ISLAND
The small island is considered as protected area because of its beautiful nature.Balicasag Island is surrounded by a coral reef. It has the best diving spots in the region. The under-water world is breathtaking.
BACLAYON
Baclayon is famous for its church. It is one of the oldest churched on the Philippines. In the old monastery, which can be found next to he church, there is a small museum with relics and artifacts from the sixteenth century.
BLOOD COMPACT MONUMENT
Not far from Tagbilaran you can vistit the Blood Compact Monument.This place commemorates the friendship between Legaspi (a Spanish explorer) and Sikatuna (a Philippine chief). On March 16th, 1565 they met at this place, they mixed some drops of their blood and drank a mg of wine.
SCHMETTERLINGSGARTEN
Wunderschöne Schmetterlinge verschiedener Arten
BOHOL BEE FARM
If you like health food, you should definitely visit Bohol Bee Farm in Dauis.On this farm you can buy honey and all kinds of health food.You can also enioy a delicious meal in the restaurant which lies next to the farm.
HÖHLEN VON BOHOL
Another attraction in Bohol are the caves. There are round about 1.400 caves. In some of the caves you can admire the paintings, and in some other caves you can find lakes. The most beautiful cave is called Hinagdanan Cave. It lies on Panglao Island.You can find stalactites there. This cave is a must-see.
MAG-ASO FÄLLE
Another beautiful tourist attraction are the Mag-Aso-Waterfalls. There is also a small lake. The tourist attraction is worth a visit.